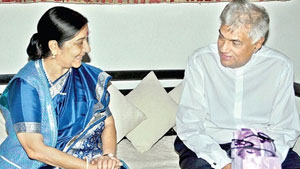 External Affairs Minister Sushma Swaraj has told Sri Lankan Prime Minister Ranil Wickremesinghe that the issue of Indian fishermen intruding into Lankan waters should not be seen legally but from a humanitarian perspective.
Taking up the explosive issue at her luncheon meeting with Wickremesinghe here on Saturday, Swaraj said the issue concerns people's livelihood and will have to be approached in a manner that takes into account the livelihood and humanitarian needs of the fishermen of both India and Lanka.
Briefing the Indian media at the end of Swaraj's two-day visit to Lanka, External Affairs Ministry spokesperson Syed Akbaruddin said there is a fundamental difference between the Italian marines case and the Indo-Lankan fishermen issue. The former is a legal issue, while the latter is a livelihood and humanitarian one, he said.
Swaraj's plea to Wickremesinghe on the fishermen issue came in the wake of an interview the Lankan PM had given to Thanthi TV in which he had said that it is well within the Lankan Navy's rights to shoot at Indian fishermen if they intrude into Lankan waters since the country's law provides for shooting in self-defence.
However, Wickremesinghe added that Lanka is willing to settle the fishermen issue peacefully, through talks.
Akbaruddin said India wants the issue to be settled through talks between the fishermen of the two countries.
(Indian Express)