---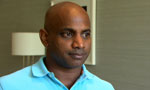 Upul Tharanga's proven ability to bat anywhere in the order and his brilliant recent form in domestic circuit influenced them to call him in to be stand-by for injured all rounder Jeevan Mendis, chief national selector Sanath Jayasuriya told "Daily Mirror" yesterday.
Jayasuriya added that it would also mean the team might have to use more of Tillakaratne Dilshan's hitherto under-utilised spin in the on-going ICC Cricket World Cup.
The former Sri Lanka skipper gave this explanation when he was asked why they opted to call up an opening batsman in place of an all-rounder who bats in the lower order and bowls a few overs of leg spin.
"Our physio who examined Mendis said it might need more than a week to heal and wanted a scan done to assess the injury. Mendis was sent for an MRI which proved that he had torn a hamstring and is likely to be out of action for nearly two weeks," Jayasuriya said.
(Channaka de Silva)
Read full story:
http://sports.dailymirror.lk/2015/02/25/jeevan-mendis-injured-upul-to-be-sent/
Facebook Post