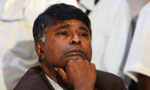 Former State Minister of Higher Education, Dr. Rajiva Wijesinghe crossed over to the Opposition today criticizing the removal of members of the University Grants Commission (UGC) and the procedure followed in appointing new members to it.
Dr Wijesinghe in special statement in Parliament said the cabinet ministers had hoodwinked him by telling him that he will be allowed to run the higher education sector but in the end removed the members of UGC. He said the minister informed him that the President had wanted UGC members removed. However, the state Minister said the President had denied this when he inquired from him.
Dr. Wijesinghe also said he was never given an opportunity to discuss these matters with the Prime Minister.
Coming up with more allegations the former state minister said he was asked to select members for the UGC from a list which was supposed to have been at the Prime Minister's Office. "How did such a list go to the Prime Minister? This is not the way to run the government," he said.
Dr Wijesinghe said he is opposed to the Gazetted constitutional amendments as it was not the proposals which the cabinet agreed upon on Sunday and pointed out that replacing the executive presidency with an executive premier was dangerous.
Dr. Wijesinghe said he would support President Maithripala Sirisena though he crossed over. "I don't want to sit with the ministers," he said while crossing the floor.