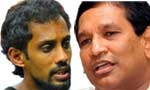 The Inter-University Students' Federation (IUSF) said that Health Minister Rajitha Senaratne's daughter-in-law (MP Chathura Senaratne's wife), Sarupa Samangi Manathunga was following a course at the South Asian Institute of Technology and Medicine (SAITM) and that that was why Dr. Senaratne was striving to protect SAITM.
IUSF convener Lahiru Weerasekara said they were informed by reliable sources at SAITM that the health minister's daughter-in-law was studying there and that her registration number was MF121F 006MD77.
Some other relatives and friends of politicians are said to be studying at SAITM; but no further details have been obtained,said Lahiru .
"The so-called medical college where medical degrees are actually sold for millions of rupees, is receiving much support from the Health Ministry.
"The Sri Lanka Medical Council (SLMC) has refused to approve SAITM, yet Dr. Senaratne has approved it and allowed its students to undergo clinical training at state hospitals. We will not remain silent and allow the minister to place the health service and innocent patients' lives in danger," he said.
He said the IUSF would be conduct a joint opposition campaign together with some trade unions and civil organisations against the Health Ministry's decision.
(Piyumi Fonseka)