---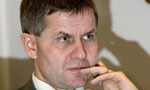 Former Norwegian Special Peace Envoy Erick Solheim today rejected President Mahinda Rajapaksa's claims that he was covertly financing the Tamil Tigers.
Solheim in a Twitter message said, "President Rajapaksa tells lies about me as election approaches. I will set the truth straight tomorrow (Monday)".
He was responding to claims by President Rajapaksa, who accused him (Solheim) for covertly funding the Tamil Tigers.
Addressing a political gathering in Kurunegala, President Rajapaksa said, "they (Norway) gave money to the LTTE. The Norwegian government must investigate. We have evidence on how they funded the terrorists."
He specifically blamed former Norwegian minister and peace facilitator Erik Solheim for backing the LTTE.
"Solheim is now planning to give evidence against us in Geneva," Rajapaksa said referring to the ongoing UN Human Rights Council's investigation on war crimes committed by both the LTTE and government forces during the final phase of the civil war that ended in 2009.