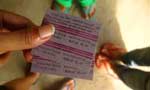 Transport Minister Nimal Siripala de Silva yesterday instructed the Railways Department to increase penalty fine to Rs 5,000 with effect from January.
The previous fine amount for ticketless travel was Rs 2,500 plus the double the amount of the ticket price. It was increased from Rs 900 to Rs 2,500 in 2013.
Railways Deputy Transport Director Vajira Saman Polwattage said the Minister had instructed them at a meeting in view of increasing the railway revenue, he said.
"He said not to spare even Government Sector workers if found travelling without tickets.
"The names of the offending State Sector workers will be given to relevant Department Heads, and the Public Administration Ministry via the Railways Department," Mr. Polwattage said.
"The minister had instructed the Department to issue a Gazette notice on the increase of the fines as well," he said.
"The Minister wants to increase the fine on ticketless travel to Rs 5,000. He also wants to double the fines for people travelling in upper class carriages with low class tickets," Mr. Polwattage said.
"The Minister had also wanted to increase the inspections," he said.
(Chaturanga Pradeep)