---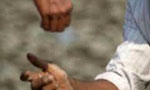 The Railway Department has initiated raids to arrest 'train beggars' in intercity and long distance trains today following a string of complaints by harassed commuters.
The Planning Director attached to the Railway Department Wijeya Samarasinghe said the arrests were launched by the Railway Security Service to put an end to the phenomenon of begging in the trains.
According to Mr. Samarasinghe, at the moment no arrests were reported since it was the first day and the raids would be implemented in all types of trains especially in office trains.
The raids had been started under the request of General Manager Wijeya Amaratunge, and the beggars would be produced in court after the arrests.
"Some beggars cause irritation to people. Most of them are well planned to exploit resources, to spread communicable diseases or to raise the crime rate. It is a violation of Sri Lanka Railways Authority Act. We have received considerable number of complaints from the train commuters asking for a proper solution," he added.
(Piyumi Fonseka)