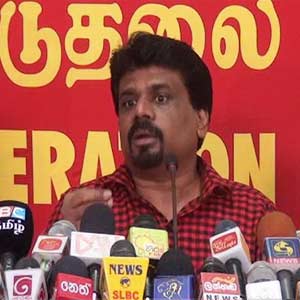 The Janatha Vimukthi Peramuna (JVP) today criticized the budget proposal to exempt taxes on foreigners when purchasing lands in Sri Lanka and asked whether those who voted for the government were foreigners.
Addressing a news conference held at the party headquarters in Battaramulla, JVP Leader Anura Kumara Dissanayake said the same proposal was implemented by Prime Minister Ranil Wickremesinghe in 2001 as the then Prime Minister.
"Many properties at the Galle Fort and coastal areas of Beruwala were purchased by foreigners because of this tax exemption in 2001. When I was the land minister, I introduced the 100 per cent tax when foreigners purchased lands in the country. The government is attempting to revoke the tax, which is an absurd move," he said.
He said there was a vast different between the affordability of Sri Lankans and foreigners and as such it was not acceptable to provide privileges for foreigners to buy lands in Sri Lanka for the same price they were being sold to locals.
MP Dissanayake said the government had made another budget proposal to remove other obstacles when purchasing lands. Accordingly, the proposal would make provisions to release any land easily for those who wished to buy or sell them and also to increase the threshold of the amount of lands owned by one person.
"This proposal is not beneficial to the common citizen or farmers. This has been brought to allow companies to buy lands in large amounts," he said.
Meanwhile, he said the budget had completely disregarded farmers.
(Lahiru Pothmulla)