---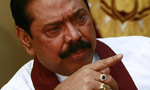 President Mahinda Rajapaksa today instructed the Police Chief N.K Illangkoon to carry out an investigation into the sabotage of opposition candidate Maithripala Sirisena's public rally at Wanduramba in Galle this morning.

"Two special police teams and the Wanduramba Police are investigating the incident," Police Spokesman Ajith Rohana said.

He said disciplinary action would be taken against the Wanduramba Police OIC for not having provided security to the location where the public rally was to be held.

SSP Rohana said security had been provided throughout the night and till six in the morning but the incident had occurred after the security had been removed and that the reason why the security had been removed was also being investigated.

Unidentified gangsters who had arrived in two Defender jeeps are reported to have sabotaged the stage and the decorations by setting them on fire. They had also damaged the vehicle and the public address system.

Mr. Sirisena was scheduled to address a rally in Wanduramba this evening.(Darshana Sanjeewa)