---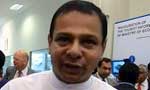 Civil Aviation Minister Piyankara Jayaratne said he would give his portfolio to UNP Parliamentarian Mangala Samaraweera if he returned to the Sri Lanka Freedom Party (SLFP).
"Mr. Samaraweera is most welcome if he decided to return to the SLFP. I am ready to offer my portfolio for him as a gesture of honour," he said.
He expressed these views at the opening of a Presidential Election office in the Anamaduwa electorate.
The minister said that SLFP was not something new to Mangala Samaraweera.
"SLFP is Mr. Samaraweera's home. Whenever there is some misunderstanding we step into the next door, but we return at the end of the day," he said. (Jude Samantha)