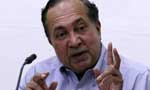 Paid news, political pressure and buying of media institutions by powerful companies which have no media background will increase the pressure on media, a top media personage from India said yesterday.
Mr. N. Ram, the chairman of Kasturi and Sons Ltd, the Publisher of the Hindu Group of Newspapers, who gave the keynote address at the Esmond Wickremesinghe Media Freedom awards ceremony, said the exotic world of aggressive and unorthodox publishing and business strategising for growing newspapers throws out of the window most of the things learnt from journalism school or the elements of journalism. He said the situation had led to some critical debates on a wider phenomenon – paid news, not as a rogue practice but as a deeper and industry-wide phenomenon that was not confined to election coverage. "Paid news is run to pass off an advertisement, a piece of propaganda...as news. Paid news does not disclose to the reader that this information has been paid for," he said.
He said, the pressure from politicians and the public to impose external regulation through legislation would increase. Mr. Ram said demonstrating that transparency, accountability, and social responsibility are more than slogans, and introducing codes of values and codes of good practice binding journalists and the media industry, would help media organisations to overcome this situation. He stressed the need for self-regulatory mechanisms, such as independent news ombudsmen, within major news organisations. Mr. Ram lauded Sri Lanka for removing defamation laws, giving the credit to the government and parliament of 2002. He stressed that the Press Complains Commission should be strengthened by statutory underpinning, allocation of adequate funds by parliament, and the provision of an appellate tribunal that would satisfy legal requirements. Prime Minister Ranil Wickremesinghe (the son of Mr. Esmond Wickremesinghe), who was the chief guest at the ceremony, delineated the struggle for media freedom in Sri Lanka relating to the takeover of Lake House by the United Front government in 1973. He said he would leave it to the media to reward those who had stood up for media freedom. "Neither I nor anyone from my family will interfere in the Esmond Wickremesinghe award scheme; I leave the decisions to the media," he said. Edmond Ranasinghe, the founding editor of Divaina stressed that the press should highlight the importance of the change that was brought about on January 8, 2015, and play a role in sustaining it. The inaugural Esmond Wickremesighe award was given to Udayan Newspapers Ltd.
(Yohan Perera)