---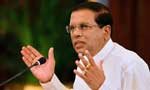 President Maithripala Sirisena today said there was a shortcoming on the part of the government when the Theravadi Bhikku Kathikawath Bill was tabled in Parliament.
"It seems that the draft bill had not been submitted to the Maha Sangha before it was presented to parliament, so I directed the Prime Minister, Buddhasasana Minister and other relevant authorities to submit this bill to the Maha Sangha and table in Parliament again with necessary amendments," the President said.
He also said the draft bill which had already been submitted to Parliament was however not a final draft. He further said he would take all necessary steps to strengthen the powers mentioned in the Sri Lanka Constitution on Buddhism.
He expressed these views at a meeting held at the BMICH where the felicitation ceremonies for the founders of Amarapura Nikaya and the Most Venerable Sanga and laymen dignitaries.