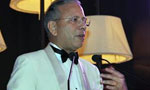 Prime Minister Ranil Wickremesinghe announced yesterday that the government had decided to appoint the president of Rotary International, K. R Ravindran, as a special ambassador to attract foreign investment.
Speaking at a banquet of Rotary International last night, he said Ravindran would be responsible for bringing investments into Sri Lanka: "Bring in funds to the country and not for the political leaders, including me," he told him.
Mr. Wickremesinghe also focused on what seemed an appropriate topic -- that of consulting astrologers to fix dates for elections. He said one should not consult an astrologer, but rather see to it that one's opponent chooses a bad one.
He said Sir John Kotelawala, when he was prime minister, had hired an astrologer to fix a date for the general elections of 1956 and lost. He said Mrs. Sirimavo Bandaranaike had also consulted astrologers when fixing dates for elections, and then lost.
(Yohan Perera)