---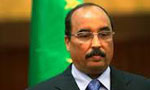 President of Mauritania Mohamed Ould Abdel Aziz will be visiting Sri Lanka today on transit to Brisbane, Australia, to attend the G-20 Summit, The Ministry of External Affairs said.
During President Abdel Aziz's 2-day visit, two bilateral agreements will be signed between Mauritania and Sri Lanka on establishing a joint commission on cooperation and an agreement on political bilateral consultation, President's media division said.
President Abdel Aziz will also call on President Mahinda Rajapaksa. The two agreements will be signed by External Affairs Minister G.L. Peiris and the Foreign Minister of Mauritania in the presence of the two Presidents.
Sri Lanka established formal diplomatic relations with Mauritania on Dec. 21, 2012, following a Cabinet decision in 2012 to establish diplomatic relations with 15 African countries. The Sri Lanka Embassy in Egypt is concurrently accredited to Mauritania. Sri Lanka and Mauritania are members of the Non-Aligned Movement (NAM) and G77.
Mauritania is also a member of the African Union (AU) and Organization of Islamic Cooperation (OIC).President Abdel Aziz, since January 2014, has been the Chairman of the African Union where Sri Lanka obtained accreditation status in April 2014.
The Government of Mauritania supported Sri Lanka at the United Nations Human Rights Council (UNHRC) in 2012 and 2013.
At present, Sri Lanka has established diplomatic relations with 42 African countries and has six resident missions in the continent.