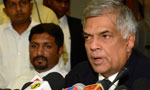 Prime Minister Ranil Wickremesinghe today said the Mahinda Rajapaksa government that was defeated at the January 8 election had no mandate in the present Parliament and that if they were attempting to change the Prime Minister in this Parliament, it would be a betrayal of the people's mandate.
Mr. Wickremesinghe expressed these views at a news conference held at the Parliament Complex where financial help was given to the mother of a UNP supporter, Manjula Prasad, who was killed in the UNP led protest campaign "Janabala Meheyuma" in 2001.
"After the Mahinda Rajapaksa government was defeated at the last Presidential Election, the mandate of the Parliament which supported the former president was also annulled. But he still thinks that it has a mandate in the present Parliament. When a mandate was given to President Maithripala Sirisena, it permitted me to set up a government and to get the support of the SLFP as well. If they wanted to change it, they need to go before the people. If they think that they can change Prime Ministers in this Parliament, it will be a betrayal of the people's mandate," he said.
Prime Minister Wickremesinghe said that if they had forgotten what they needed to do, including that of enacting the 20th Amendment to the Constitution, what was needed was to go for an election and settle this once and for all. He warned that the UNP, which made many sacrifices to uphold democracy in the country in the past, would not allow the UPFA to form the government they want without a mandate from the people.
(Ajith Siriwardana and Chaturanga Pradeep)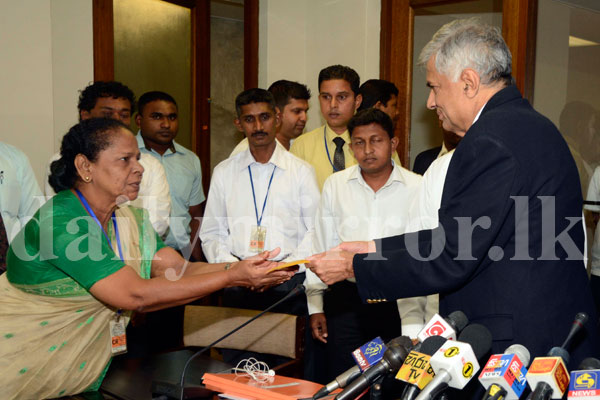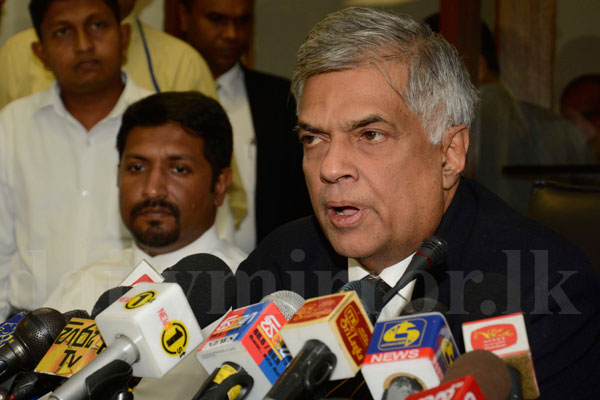 Pix by Pradeep Pathirana