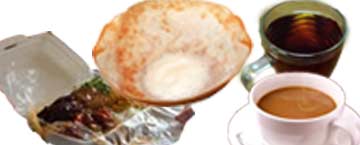 Prices would be increased on hoppers, plain tea and of all varieties of items sold at canteens from November 26, the national organizer of the All-Island Canteen Owners Association, Asela Sampath said today.
"The LTTE had been the most feared terrorist organisation in Sri Lanka and black marketing has now become another form of terrorism," he said.
"To fight against the black market terrorism, we have decided to increase prices from November 26," Sampath said.
According to the association a price of a cup of plain tea would be increased by Rs.5 while a cup of milk tea would be increased from Rs.35 to 40.
The price of hoppers would be increased by Rs. 5.The price of a lunch packet would be increased by Rs.10.
However, the decision was taken to decrease the prices of canteen food items according to the policy of "one country, one price" which was adopted during the interim mini budget.
"Authorities should take measures to ensure that consumers received the benefits of the concessions granted through the Interim Budget," he said.
"The association reduced the prices on February 6 this year passing on the benefit of the mini budget to the consumers.
"If the government is willing to take on the black market our association would grant the relief to consumers again," Sampath said.
(Chaturaga Pradeep)