---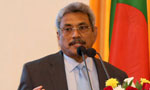 Defence Secretary Gotabhaya Rajapaksa today highlighted the importance of reducing tensions and overcoming misunderstandings among countries in the South Asian and South East Asian region.
He was addressing the South and South East Asian Nations (SA-SEAN) Dialogue of Chiefs of Defence Staff in Colombo today
"One of the primary aspirations of countries in the South Asian and South East Asian region is to maintain peace and stability for their continued economic development. Maintaining regional stability as well as upholding national security is key to achieve this," Mr. Rajapaksa said.
Mr. Rajapaksa said that activities of non-state actors, the incidence of transnational crime in particular, needed to be closely monitored and guarded against.
"As such, improving the cooperation and collaboration among nations are essential."
"If we consider the Sri Lankan experience over the last thirty years, we will see the transnational nature of the threats that we face. The LTTE was a sophisticated terrorist organisation with a large international network. Its operatives were based in a number of countries in Asia, Europe, North America and Australasia," he said.
While the LTTE was militarily active in Sri Lanka, this network used illegal means such as extortion, sale of narcotics, credit card fraud, as well as voluntary contributions from elements in the Tamil population overseas, to amass vast sums of money. This money was used to finance terrorist activities in Sri Lanka. Money was sent through the banking system to LTTE front organisations, as well as more directly through the Hawala system.
"It is also important to bear in mind that some of the policies that we have, which are intended to improve the quality of life of our citizens and encourage economic development through tourism and trade, can also be used by terrorists and criminals for their activities," he said.
He said that countries in the South and South East Asian region had been used by such non-state actors as meeting places, transit points or even temporary bases from which they initiated their activities.
"Take for example drug trafficking, which is increasingly becoming a serious issue for many of the countries in our region," he said.
Commenting on human trafficking Mr. Rajapaksa said that combatting the issue was critical to the economic development and future prosperity of these countries.
"The most important tool that countries have at their disposal in this regard is intelligence. For intelligence to be optimally effective, however, it needs to be shared amongst nations. Sharing of intelligence enables militaries, law enforcement agencies and other key actors in upholding national security to improve their preparedness to combat such threats," he said.