---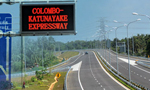 The Police Department said today that Colombo – Negambo Road will be closed from 6 p.m. on January 12 to noon of January 13 due to the visit of the Pope.
Police Spokesman SSP Ajith Rohana said during the time Katunayake- Colombo Expressway could be used toll free for all vehicles including three-wheelers and motor-cycles.
SSP Rohana said vehicles traveling towards to Colombo from Negombo and Chillaw via Colombo – Negambo Road would be opened until 5 a.m. on January 13.
Motorists driving towards Colombo would be allowed to use both the Expressway and the Negambo Road till then.
The Colombo – Negambo Road would be completely restricted from Katunayake to Nawaloka Circle after 8 a.m. on January 13, he said.
Police advised drivers to be cautious when driving along the expressway as it would be similar to a normal road.
(Darshana Sanjeewa)