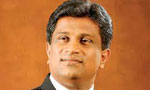 As this government has no mandate to govern the country after April 22, Parliament would be dissolved soon after April 23 and a general election held under a caretaker government Deputy Foreign Minister Ajith P. Perera said today.
He said the government was confident that by then the Constitutional and Electoral Reforms would be introduced with the draconian powers of the executive presidency pruned and the proportional electoral system replaced by a mixed electoral system.
The deputy minister said these changes were among the pledges given by President Maithripala Sirisena and Prime Minister Ranil Wickremesinghe during the presidential poll campaign and also included in the 100-day programme.
"The President and the Prime Minister are of one mind with regard to the dissolution of Parliament shortly after April 23 and general elections held under a caretaker government. The leader of the political party which has the largest number of members in Parliament will be appointed as Prime Minister and the leader of the political party which secures the second largest number of seats is to be appointed as the Deputy Prime Minister," he said.
He added that the incumbent government had not received a mandate for 6 years but a temporary mandate up to April 22 and therefore the government had no right to remain in power after April 23.
The deputy minister said the government was confident that Elections Commissioner Mahinda Deshapriya would work out the modalities required for the mixed electoral system such as the demarcation of the electorates and other matters required to hold a general election within the stipulated timeframe.
"Constitutional and Electoral reforms were popular demands during the presidential poll and voters gave a mandate to President Sirisena to introduce those reforms through his 100-day programme. The people were fed up with absolute and unfettered power concentrated in the hands of the executive presidency resulting in the vital pillars of democracy such as the Parliament and the Judiciary turning out to be mere rubber stamps. The then Parliament had to pass only the missives forwarded by the Presidential Secretariat and the Treasury. The Judiciary too was under the thumb of the President," he charged.
The deputy minister said he was confident that the main opposition, the United People's Freedom Alliance (UPFA) would support the Government's action plan with President Sirisena heading the Sri Lanka Freedom Party (SLFP) and the UPFA.
The entire exercise of constitutional and electoral reforms was to delegate the excessive powers of the executive presidency to the Legislature and the Cabinet so as to prevent questionable characters becoming people's representatives ultimately lead to cleaner politics free of corruption, fraud, highhandedness and other misdeeds.
(Sandun A Jayasekera)