---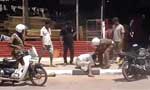 A disabled person who was riding a motor bike through Kahatagasdigiliya Town was severely and inhumanly assaulted by two Traffic Police officers attached to the Kahatagasdigiliya Police, according to the people in the town.
The disabled person who, had lost one of his legs, was riding past when he was ordered to stop by the two police officers. As he didn't obey the order, he was stopped by the policemen. They had then assault him near the main bus stand. Due to the attack his artificial leg had come off and fallen onto the pavement. No one had come to the aid of the man while he was being assaulted.
A bystander had videoed the assault.
When contacted, Kahatagasdigiliya Police OIC Lakshman Ranwalaarachchi said he was unaware of the incident. However he said a motorcyclist had been taken into custody for disobeying a police order. The OIC said the man had bitten and assaulted the police officer as he tried to arrest him.
The OIC said the suspect was produced before the court for driving a vehicle under the influence of liquor.