---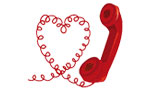 The Slave Island Police are on the lookout for a woman who is alleged to have harassed a journalist attached to a Tamil radio station in Colombo on Facebook and the mobile phone by repeatedly coercing him to love her.

The complainant, a journalist at a private FM radio station in Colombo 2, complained to the police that a woman via facebook was repeatedly harassing him by giving him telephone calls and text messages pleading with him to love her.
In his complaint, he asked the police to investigate this matter and take the suspect into custody.
On a request by the police, the Colombo Fort Magistrate Thilina Gamage yesterday ordered a mobile phone service provider to provide details pertaining to the telephone numbers which were allegedly used by the woman caller.
Quote: The complainant, a journalist at a private FM radio station in Colombo 2, complained to the police that a woman via facebook was repeatedly harassing him by giving him telephone calls and text messages pleading with him to love her. (Lakmal Sooriyagoda)