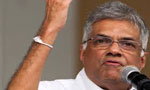 Prime Minister Ranil Wickremesinghe will make a statement in Parliament with regard to the revelations made by Cabinet Spokesman Dr. Rajitha Senaratne on bank accounts in Dubai belonging to a former VVIP family, an MP and a head of a government institution, which exceeded USD 3 billion.
Leader of the House Lakshman Kiriella said the Prime Minister would make a statement on the issue, when a question was raised by Chief Opposition Whip Anura Dissanayake on the matter in Parliament yesterday.
Mr. Dissanayake, who quoted Minister Senaratne said the latter had said at a press briefing that a member of a VVIP family had USD 1.08 billion in his bank account in a Dubai bank, while an MP had USD 500 million and a head of a State institution, a sum of USD 1.8 billion in their respective bank accounts in foreign banks. This statement, he said, could not be taken lightly as it had been made by the Cabinet Spokesman.
Accordingly the Chief Opposition Whip questioned as to whether a complaint had been made by the Minister or anyone else to the relevant authorities.
He said the government should state, who had made the complaint and where it had been made.
Also, Mr. Dissanayake questioned as to whether any investigation had been carried out on the matter. He questioned as to whether any action would be taken against those who made the allegation if it were to be found false.
(Yohan Perera)