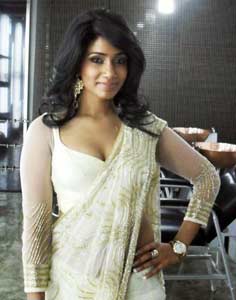 Teledrama actress Aksha Sudhari who is presently enlarged on bail over charges of criminal breach of trust for allegedly having defrauded an Indian national of Rs 140 million (after having an affair with him) was refused permission to travel abroad by Colombo Additional Magistrate Nishantha Peiris today.
A motion submitted by her attorney, Sarath Soysa, requesting permission for her to travel abroad was refused by the magistrate. He ordered the CID to file objections, if any, against permitting for the suspect to leave the country.
The actress had sought permission to visit India for personal reasons.
In the case, Gamage Asha Kumari, alias Aksha Sudhari, (age 28) a resident of Boralesgamuwa, had been enlarged on cash bail of Rs 25,000 and a surety bail of Rs 30 million, on 13th July. She had also been ordered to present herself, every Sunday, between 9.00 am and 2.00 pm, at the CID office. The magistrate had also impounded her passport.
(Nirangi Abeywickrama)