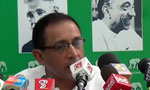 The United National Party (UNP) today said its May Day rally was one of the most successful rallies ever in the history and that it had proved the majority of people were with the UNP.
UNP General Secretary and Minister Kabir Hashim said the number of participants at the UNP rally had exceeded the number of participants took part in all other May Day rallies organised by other political parties and trade unions.
"We are labelled as a government with the minority seats in Parliament, but it was proved that the majority of the country's people were with us. That is the power of the UNP. We were able to elect two average citizens- Ranasinghe Premadasa and Maithripala Sirisena as the Presidents of the country," he told a news conference.
Commenting on the 20th Amendment to the Constitution, he said the minority parties had different opinions on the electoral reforms and that the next general elections would mostly be held under the present electoral system.
"We are committed to enact the 20th Amendment and we are optimistic that we will be able to come to an agreement on the reforms within the next ten days. However, because of practical issues implementing the new system, the next election would also most likely be held under the present system," he said.
(Lahiru Pothmulla)
WATCH