---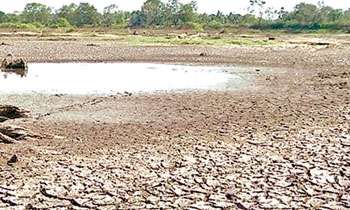 At least 62,528 people from 18,836 families in six divisional secretariat areas have been affected by the prevailing drought in the Puttalam District, Disaster Relief Centre of the Puttalam District Secretariat (DS) said yesterday.
It said most of the water holes in the area had dried up resulting in extensive damage to cultivation.
Mahakumbukkadawala was the worst affected in the district.
The district Disaster Relief Centre said 22,694 people from 7,197 families in Mahakumbukkadawala divisional Secretariat had been affected by the drought while 22,505 individuals in 6,967 families affected in Pallama divisional Secretariat.
Meanwhile, 15,860 people from 4,165 families in Mundalama DS, 950 from in 320 families in Karuwalagaswewa DS, 361 individuals in 122 families in Nawagaththegama DS and 212 individuals in 65 families also affected by the severe drought conditions.
Meanwhile, Disaster Relief Centre had provided drinking water to the Nawagaththegama, Karuwalagaswewa, Wanathawilla, Pallama Divisional Secretariats.
A spokesman from the Disaster Relief Centre said it would distribute drinking water to Mahakumbukkadawala and Mundala within the next couple of days and had requested approval to distribute dry rations to some 45,000 drought-affected families. (Jude Samantha)