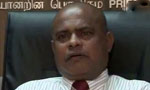 The pension anomalies of those who retired before year 2006 would be increased, starting August, by amounts varying from Rs.3,000 to Rs. 12,000 under the revised pension scheme according to the post they served in, the Pensions Department said.
The circular regarding the adjustment of
pension anomalies
of former government servants who had retired prior to 2006 has been released on the Pensions Department's Website,
www.pensions.gov.lk
.
The director general of the Pensions Department, S. S. Hettiarachchi said that pensioners who have pension anomalies should fill and hand over the relevant form to their Divisional Secretariat.
"Pensioners entitled to the adjustment of pension anomalies should refer to the Pensions Department's website for instructions or obtain the relevant particulars and the application form No. DC/5(2015)/1, from the officials in charge of the subject at the Divisional Secretariats," Hettiarachchi said.
He added that the amended pension payments should have been made this month but that this could not be done on time and the arrears would be added to the August pension payment.
The idetails regarding the adjustment of pension anomalies had been issued by Public Administration Circular 16/2015.
(Chaturanga Pradeep)