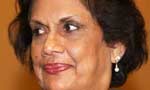 The Office for National Unity and Reconciliation (ONUR), headed by former President Chandrika Bandaranaike Kumaratunga, had proposed to introduce a new subject called 'Peace Education and Conflict Resolution' to the school curricular, it is learnt.
This has been proposed to do as part of its efforts to bring about better understanding among different ethnic and religious groups of Sri Lanka.
Initial discussion has been done with the Education Ministry.
However, the Ministry has not yet given its green light for the introduction of this subject.
It is a subject currently taught at graduate and post graduate level at some universities.
According to sources close to ONUR, various multi-cultural activities have been proposed by ONUR in this direction. It is an office functioning under the Presidential Secretariat.
(Kelum Bandara)