---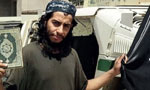 The suspected ringleader of the Paris attacks, Abdelhamid Abaaoud, has been identified as one of those killed in a raid in Saint Denis, the Paris prosecutor says.
His body was found riddled with bullets and shrapnel in an apartment in the northern Paris suburb on Wednesday.
The Belgian national, 27, was identified from his fingerprints.
Friday's gun and suicide bomb attacks in the French capital left 129 people dead and hundreds injured.
Eight people were arrested and at least two killed in the raid on the property in Saint Denis.
Heavily armed police stormed the building after a tip-off that Abaaoud was in Paris.
(BBC)
Courtesy -

Reuters