---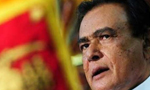 The security will be tightened during Prime Minister D.M. Jayaratne's visit in India tomorrow, Superintendent of Police P. Rajendra Prasad told The Hindu.
Prime Minister Jayaratne has been invited as the chief guest for the 19th convocation of Manipal University to be held at KMC Greens in Manipal at 5 p.m. on Saturday.

Mr. Prasad said that Mr. Jayaratne is expected to travel by road from Mangalore airport to Manipal on November 8 and from Manipal to Mangalore airport on November 9. The cavalcade will pass through National Highway 66.
Hotels and lodges have been asked to collect all information of all lodgers staying with them during this period and submit it to the jurisdictional police stations. They should gather all details of lodgers from other districts and States.
Hotels and other business establishments have been told not to allow parking of any vehicles during the period when the cavalcade travelled on the national highway.
Hotels and lodges have also been told not to let out rooms facing the highway and to keep the windows of these rooms shut. In addition, all culverts and bridges on the national highway would be secured by the police. Bomb disposal squads and anti-sabotage teams would be pressed into service for thorough checking of the national highway on the two days.

"We are providing tight security to the Sri Lankan Prime Minister with minimum inconvenience to the local people living by the side of the national highway," Mr. Prasad said.