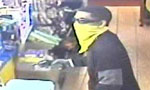 Two men were indicted this week on capital murder charges in the April 29 fatal shooting of a convenience store owner in Beaumont, United States.
John David Johnson, also known as Sean, and Chandler Kyle Ventress, both 19, are accused in the death of Mettha Kuruppu, 52.
Both men are being held at the Jefferson County jail on $2 million bonds each.
Ventress told detectives he planned to rob the Pick-N-Shop store on Major Drive when he killed its owner, according to a probable cause affidavit in the case.
Officers responding to the crime scene shortly after midnight April 29 found Kuruppu lying in a pool of his own blood behind the counter where he'd been tallying the day's receipts, according to the affidavit.
Video surveillance recordings show that, after being shot, Kuruppu walked around a little before he got 'woozy' and fell over where officers found him.
Recordings also captured two masked men entering the store together. One, whom police have identified as Ventress, pointed a firearm at Kuruppu while the second man, whom police have identified as Johnson, stood in the background 'pointing something that was under a white towel, 'which gives police the impression the second suspect was also armed.'
Ventress fired twice, the document states, and both ran away without taking anything from the store.
The police-provided portion of the video showed Kuruppu trying to bat away the robber's pistol as Kuruppu activated an alarm.
Police said Kuruppu then grabbed a BB gun with which to defend himself, but the robber shot him in the chest.
Kuruppu, a native of Sri Lanka, bought the store two years ago.
If convicted, both men could face the death penalty because they were committing an armed robbery, an aggravated felony, when the murder occurred.
(Beaumont Enterprise)