---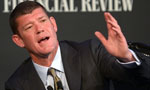 Amidst the latest budget proposals that new gaming levies will be imposed from next year, Australian Casino Mogul James Packer's Crown group had said that it was still in discussions with the Sri Lankan government over the project.
Crown Casino to open a $US400 ($457) million casino in Sri Lanka and President Mahinda Rajapaksa in the budget speech said that new gaming levies will be imposed should he win the upcoming January elections.
This includes a $100 entrance fee and a 10 per cent gaming levy on three proposed casino resorts, including one venture that includes Mr. Packer's Crown Ltd.
According to the Sydney Morning Herald, Crown has confirmed that it was still in discussions with the Sri Lankan government and had not commented further.
Mr. Packer has been actively pursuing clearance for his proposed mixed-use resort development in Sri Lanka.
In May this year the government gave approval for all three projects to go ahead, without the casinos, and also granted 10-year tax breaks - despite strong opposition.
There has been speculation that the three projects would be able to operate as casinos by transplanting the licences already held by local partners.
Crown is undertaking the push into Sri Lanka with a local partner, Rank Holdings, which holds two casino licences.
Mr. Packer has previously remarked that Sri Lanka's ambitious tourism targets were "only achievable with the right tourism infrastructure and attractions" and cited the success of Singapore in turning around its performance as a tourism destination with the development of two casino resorts.
At the Crown annual general meeting in mid October, Mr. Packer said: "As I have spoken about in the past, Crown is also looking at the rise of the middle class in other parts of Asia, including India. We are negotiating with potential joint venture partners and the Sri Lankan government to target this market by building the country's first luxury integrated resort in Colombo and that work continues".
Crown's projected opening in Sri Lanka is 2018, and it is being billed as the country's first integrated resort with 450 luxury rooms, a signature restaurant and bars, a spa and pool and a "thematic lake water feature."