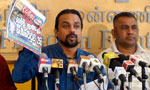 The government had not exactly done what it promised, Jathika Nidahas Peramuna (JNP) said today commenting on the fuel price reduction, JNP Leader Wimal Weerawansa told a media briefing that that those who were running the government had not kept its pledge to take away taxes on fuel though the prices were reduced.
"This regime promised to slash taxes during the elections but had failed to do so," he said while recalling that the taxes on fuel were under heavy criticism by those who were in office today.
Mr. Weerrawansa said the fuel price reduction was a result of a temporary situation in the world.
Therefore, he said, global fuel prices reduction was a result of a tactic followed by the USA to keep price low in order to pressurize Russia.
He said it was difficult to predict as to how long the global fuel prices stand low in such a situation.
Meanwhile, he also criticized the calls for the resignation of Chief Justice Mohan Peiris.
He said there were certain legal formalities to remove him.
"One could bring in a motion to Parliament seeking the impeachment of the Chief Justice if he is not fit to hold the post," he said.
Weeawansa said the present government had failed to keep its promise to keep the Cabinet to 25 members by appointing 29 Cabinet Ministers, 11 State ministers and 13 Deputy Ministers.
He questioned the statement made by the Minister of Foreign Affairs Mangala Samaraweera who had said that the North would be demilitarized.
"Is the government going to close down military camps in the North?, he asked.
(Yohanh Perera and Sanath Desmond)
Video by Sanath Desmond