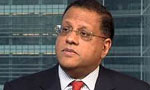 At next Monday's meeting of party leaders, the combined opposition will press for the motion against Central Bank Governor Arjuna Mahendran to be taken up for debate and passage in parliament as early as possible, Opposition Leader Nimal Siripala De Silva said today.
He said a date for the debate would be decided at this meeting.
Mr. De Silva told the media at the SLFP head office yesterday that the opposition would not give up its campaign against Mr. Mahendran until he resigns from his post of Governor.
The opposition is of the view that he had committed a financial fraud in the sale of Central Bank bonds amounting to Rs.10 billion.
It would urge the government to conduct an inquiry in line with the inquiries being carried out by Financial Crime Investigation Division (FCID) against officials and opposition members.
"The motion is also a message to President Maithripala Suirisena not to ignore this matter and to remove Mr. Mahendran from his post if parliament passes a motion against him. A motion against Mr. Mahendran in already in the Order Paper with the signatures of 91 members including those of several ministers," Mr. De Silva said.
He said a Rs.5,000 currency note has been issued with the signature of the Central Bank Governor who is a Singaporean and pointed out that signing a Sri Lanka currency note in English by a foreigner was a stigma on Sri Lanka and would lose investor confidence on the country.
Commenting on FCID investigations and subsequent arrest of opposition politicians and public officials on trumped up charges under the provisions of the Public Property Act (PPA), Mr. De Silva said the allegations were invalid and they could not be charged and remanded under the PPA.
He said the SLFP was not opposed to inquiries into financial frauds and corruption if they were conducted in an unbiased and lawful manner by the proper law enforcement agencies.
Mr. De Silva said the report by the three-member committee set up to inquiry into the controversial bond issue was submitted to Prime Minister Ranil Wickremesinghe but it had still not been released or presented in parliament as promised raising more questions than answers.
Responding to a journalist on the power struggle at some provincial council, Mr. De Silva said the courts had totally vindicated the position held by the SLFP.
"The UNP has changed the power equation in Uva and attempted a similar manoeuver at several other provinces using affidavits submitted by a few UPFA members. The Court of Appeal has given a verdict in favour of the incumbent Chief Ministers and said power equation in the Provincial Councils could not be changed through affidavits. While bowing down to the Court of Appeal verdict, we will take strict disciplinary action against all UPFA members who violated the party stand and gave affidavits to unseat UPFA Chief Ministers," he said.
(Sandun A Jayasekera)