---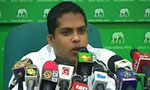 Saying he was ready to take control of the Uva Provincial Council, Harin Fernando its present opposition leader said today that his party would file legal action and get the council convened once again.
Mr. Fernando said it would be possible to present affidavits by a sufficient number of provincial councillors to the High Court and get an order to reconvene the council.
He said he would take control of the provincial council soon as he was able to muster a majority. "It is only a matter of a date and a time as the discussions are now on with three ruling party members to decide on a date and a time to cross over," he said.
However Mr. Fernando said that the UPFA was trying to persuade the members who wanted to cross over to remain with the UPFA.
Mr. Fernando said there was a move by the government to make use of the fuel price reduction in the world market to gain political mileage. He said the government intended to slash fuel prices following a reduction of a fuel prices in the world market. He said the price reduction should take place immediately as crude oil was down to US $ 60 a barrel now. (Yohan Perera and Sanath Desmond)