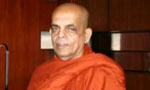 Deshapremi Bhikku Front (DBF) today said that it had already informed the people and the government about the unsuitability of the 13th Amendment to the Constitution.
DBF Secretary Ven. Bengamuwe Nalaka Thera said that this amendment had come to the limelight with India's blessings.
"There is no use of the Provincial Councils which were established under the 13th Amendment. A large amount of money had been spent to establish them, whereas the country can be ruled by the Parliament, Urban Councils and Pradeshya Sabhas. Provincial Councils are an extra burden," Ven. Nalaka Thera said.
He said the North and Eastern Provinces were merged as one Council as a result of Provincial Council system. The Chief Minister of the merged Council Varadharaja Perumal declared 'Eelam'. Though the President has the power to dissolve Provincial Councils it had already proven that the system would make the way to divide the country, he said.
"Anyone can understand the consequences of the Provincial Councils. Legislators in these Councils are not loyal to the country and to the people. It is clear that their ambition is to control the country according to the needs of the West and NGOs after coming into power," the prelate charged.
He said all ex-rulers, except the previous President had governed the country under the influence of the Western forces, especially India.
"Provincial Councils are being operated as training centers for legislators. They use the system to enter the Parliament at the expense of public funds. All the citizens have a right to go against the Provincial Council System," The Thera said.
(Chaturanga Pradeep)