---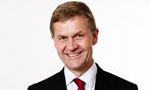 The government today branded the Development Assistance Committee (OECD) Chairman and former Norwegian Sri Lanka peace negotiator Eric Solheim 'a liar and a supporter of terrorists' who was in cahoots with the LTTE.
Responding to a journalist at todays' weekly cabinet news briefing, Cabinet spokesman and Minister Keheliya Rambukwella said Eric Solheim who had a soft spot for separatist terrorists always acted against the Sri Lankan government and armed forces.
"It was he who arranged to transport high-tech communication equipment to the North for the use of LTTE from the Bandaranaike International Airport and spare parts to assemble an impoverished flying machine, (kurumbatti) for the LTTE. In short, Eric Solheim did a lot of harm to Sri Lanka and its people masquerading as a peace negotiator," Minister Rambukwella charged.
He said he totally rejected the suggestion of Solheim that President Rajapaksa was lying and said it was he who was lying.
The government has no concern at all on the statement by Solheim that he was ready to give evidence before the UNHRC panel that probes Sri Lanka on alleged war crimes during the tail end of the humanitarian operation of the government, he said.
Responding to another question on the reported construction of a Chinese army base at Hambantotota in the international media, Minister Rambukwella said it was a total fabrication.
"Anyone can pay a visit to the Hambantota Mahinda Rajapaksa Port and see whether there is any such construction", he said. (Sandun A Jayasekera)