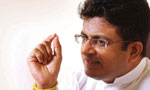 Pivithuru Hela Urumaya (PHU) General Secretary and MP Udaya Gammanpila today claimed that Law and Order Minister Thilak Marapana had to resign from his portfolio under the directions of Premier Ranil Wickremesinghe because he disclosed the truth in Parliament last week, when he said that the Police raided Avant Garde ship in January to "score points".
He said that former minister Marapana was pressurized from several parties to resign after he made the controversial statement regarding the Avant Garde issue.
Speaking on the due release of prisoners held under the Prevention of Terrorism Act (PTA), MP Gammanpila said it would cause a dangerous situation in the country since the prisoners named 'Moris' and 'Giri' who were suspected to have planned the suicide bombings targeted former Defence Secretary Gotabaya Rajapaksa and Field Marshal Sarath Fonseka would also be released.
Meanwhile, responding to a question posed by a journalist on summoning of Dilrukshi Gammanpila, the wife of MP Gammanpila to the Special Investigations Unit of Police (SIU), he said even if his wife is imprisoned or abducted, he would not quit politics.
Dilrukshi Gammanpila was today questioned by the SIU to get a statement with regard to the allegations were made against her husband stating that he had brought down a bankrupt businessman from Australia, used the power-of-attorney privilege to sell his shares worth 100,000 dollars.
"This is not the first time my family members were levelled indirect threats from several parties who want me to quit politics. Previously, my children were threatened that they would be killed unless I left the country. But, I did not. I am not such a person who does politics with the intention of looking after the family. Even if my wife is abducted or imprisoned, nobody can stop my journey," he said.
He said that it was quite funny as his wife too had to join with the other politicians' wives who were earlier summoned and questioned by the police over several allegations.
(Piyumi Fonseka)