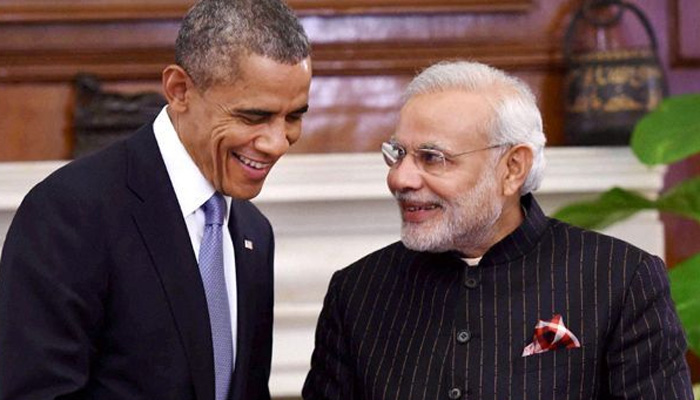 Prime Minister Narendra Modi's pinstripe monogrammed bandhgala suit, which hogged limelight during President Barack Obama's visit, went up for auction in the diamond city on Wednesday.
On the first of the three-day auction, Rajesh Juneja from Surat bid a whopping Rs 1.21 crore for Modi's Navy blue suit. Juneja gave a written bid offering Rs 1.21 crore for the suit which was the star attraction at the auction.
Juneja, who emerged as the highest bidder for the suit on day one, told a news agency,"I like Modi's hardwork, confidence and that is why he is my role model. I want to keep the suit as a souvenir. If the bid goes up a little further, I will match it. But if it goes up steeply, then I will think about proceeding further".
Earlier, NRI businessmen Viral Chowksi offered Rs 1.11 crore, while before him textile trader Suresh Aggarwal made an offer of Rs one crore for the two-piece suit.
The first bid was made for Rs 11 lakh by a Surat-based chartered accountant Pankaj, while few minutes later, second bid of Rs 51 lakh was made by Raju Agarwal, an estate dealer.
"I have offered Rs 1 crore. This is work of charity and when the Prime Minister is doing for a great cause like cleaning of Ganga, I decided to go ahead and buy the suit," said Suresh Aggarwal.
Giving a new dimension to the controversy, NRI Gujarati businessman Ramesh B Virani, who had participated in the Gujarat Vibrant Summit, said he had gifted the suit to Modi when had he gone to invite the Prime Minister for his son's wedding.
"At that time, he (Modi) told me that he has a very busy schedule ahead and also that he will be donating the suit. I said there is no problem with that. I told him that I want him to wear the suit on the day of my son's wedding as a blessing," he said.
The suit that created waves and kicked up a political storm was auctioned today along with 455 items that Modi had received as gifts during his nearly nine-month long tenure to generate funds for the Prime Minister's ambitious 'Clean India Mission'.
Among other items up for auction are two T-shirts of Modi, including one gifted to him by Cricket Australia during his visit to Australia in November. The T-shirts were among 237 clothes and textile items put for auction.
Meanwhile, reacting to the auction, Trinamool Congress leader Derek O' Brien termed the exercise as damage control public relations and said it has nothing to do with Ganga cleaning.
PM Modi wore the deep blue bandhgala suit for a joint appearance with US President Barack Obama at Hyderabad House when he stepped out for a 'Chai Pe Charcha' meet and a press conference with the US President in New Delhi last month.
Surat Municipal Commissioner Milind Toravane said the event is being organised at SMC's Science Convention Centre at city-lights road in Surat as the Prime Minister's Office(PMO) had decided to hold the auction event in the city.
Modi, during his chief ministerial tenure in Gujarat, had initiated a trend to auction the gifts that he received in a year and it was donated to Kanya Kelavani Yojna for girl child education, he said.
Whether it is with his well-fitted bandhgala suits, his half-sleeved kurta and brightly coloured Nehru jackets or his choice of an orange shawl -- Modi's style statements have always been eye-catching -- so much so that during the Obamas' visit for the country's 66th Republic Day celebrations, he stole the thunder from the US First Lady as far as fashion was concerned.
(zeenews)