---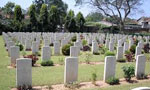 Sri Lanka's main cemetery is set to introduce a 10-fold hike in the price of burial plots to ease congestion in the capital's most prestigious graveyard dating from British colonial rule, officials said Thursday.
The Colombo Municipal Council, which administers the carefully tended Colombo General Cemetery, said demand for burial plots has surged while the cost has remained unchanged for a quarter-century.
"We have a serious space problem at the cemetery and demand is rising," Colombo Mayor A.J.M. Muzamil told AFP.
"The rates are not reflective of market value and we want to correct that," Muzamil added.
Only Colombo's 550,000 residents are entitled to make the green, tree-lined cemetery their final resting place.
"But outsiders are also 'dying' to be buried there," the council's chief medical officer Ruwan Wijayamuni told AFP.
"Some buy plots in the name of residents and the burial plot is actually used by someone from outside," Wijayamuni said.
"For the very wealthy, it is matter of prestige to own a plot at the Colombo General," Wijayamuni said.
The authorities plan to increase the price of a four-square-foot (0.37-square-metre) plot from $132 to $1,300.
"If we don't take some immediate action, we will soon run out of space," Wijayamuni said.
Officials hope the increase would deter people from reserving burial plots for outsiders, Wijayamuni said.
But a burial plot in Colombo's best resting place still costs far less than in much of the developed world where the price can be many thousands of dollars, Wijayamuni noted.
The cemetery contains the remains of British science fiction writer Arthur C. Clarke, one of Sri Lanka's best-known foreign residents who died in 2008 at the age of 90.
Many of the other graves date from the period of British colonial rule of the palm-fringed tropical island.
The cemetery was commissioned in 1866.
A section of the cemetery isreserved for Commonwealth War Graves, maintained by Britain.
The cemetery is a tourist attraction in Colombo because of its huge trees, manicured lawns and carefully maintained flower beds. The area is also an oasis for birds.
The authorities are also about to add a new crematorium to ease congestion at the 44-acre (20-hectare) graveyard which is located in a posh part of the capital over looking the exclusive Royal Colombo Golf Club.
While Buddhists, who form the majority of Sri Lanka's more than 20-million population, opt for both cremations as well as burials, most Christians choose burials. (AFP)