---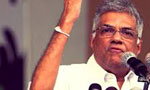 The Rajapaksa regime should be defeated and the Sri Lanka Freedom Party (SLFP) should be allowed to function in order to safeguard democracy in the country, United National Party (UNP) National Leader Ranil Wickremesinghe said today.
"Defeating the Rajapaksa regime doesn't mean we need to defeat the SLFP as well. The SLFP should proceed without losing its base though that party has been limited to a sign board today. There should be two strong parties to govern a country and to protect democracy," he said.
Addressing the 19th General Meeting of the National Railway Services Union at Sirikotha, Mr. Wickremesinghe said one political party couldn't govern a country for more than two terms usually.
"A party cannot hold the office for more than one or two terms in a row, though it ruled the country in the best way possible. The typical procedure is two major parties to rule a country one party after the other. Therefore we should let SLFP go unharmed," he said.
He said each party should be strengthened for a vibrant democracy.
"We may not come to the terms of the SLFP but there could also be patriots in that party just like in other parties. Therefore each patriotic party should come forward to save the country by removing the Rajapaksa regime," he said. (Lahiru Pothmulla and Darshana Sanjeewa)
WATCH