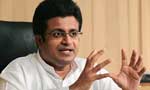 The Pivithuru Hela Urumaya (PHU) today announced that it would no longer take part in the All Party Conference (APC) convened to consult the political parties' opinion on how to address UNHRC resolution on Sri Lanka, claiming that the APC was only a media show.
Writing a letter to President's Secretary P.B. Abeykoon, PHU General Secretary MP Udaya Gammanpila said despite the mandate of the APC to consult opinion of all the parties, the government had already taken a number of decisions on its own.
He said these decisions were not only detrimental to the national security of the country, they would also entangle the country more deep in the international trap it's already engulfed in.
"It seems the notion of the APC is to show to the world that the opinions of all the parties are considered when making decisions. Therefore, we don't want to take part in such a drama. However, we will not hesitate to give our assistance if the government genuinely decides to face international challenges after having discussions with other parties," Mr. Gammanpila said.
Addressing a news conference, he said US representative to the UN Samantha Power is scheduled to visit Sri Lanka on November 23 and questioned what's the reason behind her visit was.
Meanwhile, National Freedom Front (NFF) Leader MP Wimal Weerawansa said they would not allow the country to fall prey into any danger but said if the government intentionally putting the country in an international trap, they would also leave the APC.
"We don't want to take responsibility of placing the country in a trap by taking part in the APC. If the government continues to tighten the grip on Sri Lanka in an international trap, we will leave the APC," he said.
(Lahiru Pothmulla)