---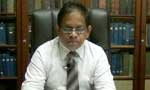 The Railway Department has earned over Rs. 3 million in four days from trains running along the newly-restored northern line to Jaffna, Superintendent of Railways G.W. Sisira Kumara said.
He said the average income from the air-conditioned inter-city express was Rs. 5 lakhs. "This is a generous income. We get a fair income from the normal express trains as well," he said.
This however had not earned in a huge profit for the department, he said. "We can cover maintenance costs with this money but there is no huge profit. This is a service to the people by the government," Mr. Kumara said.
Four trains, two from Mt. Lavinia and two from Colombo-Fort, travel to Jaffna daily. "We decided to start two trains from Mt. Lavinia to serve the Tamil public who live in areas like Wellawatta," Mr. Kumara said.
Economy class tickets to Jaffna cost Rs. 360 while second class tickets cost Rs. 700 and first class Rs. 800. A one-way ticket to Jaffna in the air-conditioned express costs Rs. 1,500 and the journey takes six hours.
Mr. Kumara said residents of the north had been recruited to work on the northern line. He said further there were 10 rooms in the Jaffna Railway Station which could accommodate about 35 people. (Sanath Desmond and Lahiru Pothmulla)