---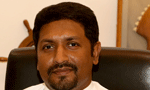 State Minister of Defence Ruwan Wijewardene yesterday said in Jaffna that the strength of the northern troops wouldn't be reduced and the prevailing number of military bases would be functioned without dismantling.


Addressing troops at the Security Forces Headquarters in Jaffna, Minister Wijewardene also said that the national security would not be disregarded at any cost and it would be further strengthened.

Commencing his first official visit to the Military Establishments the minister also said that priority would be given to enhance the professionalism of the troops and the opportunities to join with the peacekeeping missions would also be enhanced in due course while making closer ties with respective foreign nations.

Further speaking he recalled on the heroic deeds of the valiant war heroes and differently-able soldiers. Minister reiterated that he would act dedicatedly to create a better tomorrow for all the military personnel.
Minister Wijewardene was briefed on the security forces deployments and military cooperation in the province with a comprehensive presentation at the main conference hall of the SFHQ-J.