---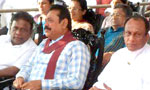 President Mahinda Rajapaksa has said that his cabinet no longer holds any Ministers who can be bought over by dollars or pounds.

Speaking at an event in Matara, President Rajapaksa had said, "Foreign forces are keen on appointing a leader who would be a puppet in their hands. But the people don't approve of such acts. No matter who contests, it will not be easy to defeat me."

He had stated that a certain group of individuals were attempting to take him before the International Criminal Court but added that he was not worried out such attempts. "I would not build a home in a cemetery if I was afraid of ghosts," he had said.

Addressing the gathering he had stated that no matter who the common opposition candidate was, they would find it extremely tough to defeat him.