---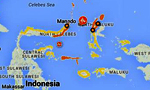 The Disaster Management Centre (DMC) said the 7.3-magnitude earthquake which struck 150 kilometers off the coast of Kota Ternate, Indonesia had no impact on Sri Lanka.
The CNN reported the quake struck at 10:31 a.m. local time at a depth of 47 kilometers (29.2 miles), according to the USGS.
No Pacific-wide destructive tsunami is expected, but "hazardous tsunami waves are possible for coasts located within 300 km (186 miles) of the earthquake epicenter," according to the National Weather Service Pacific Tsunami Warning Center.
The estimated time of arrival for the initial tsunami wave along Indonesia's coast is within the next six hours, the warning center said.
The Pacific Tsunami Warning Center said it will update its warning within the hour.