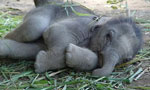 Not a single elephant birth has been reported and no elephant registration had taken place from 2009 to 2013, Wild Life Conservation Department said today. Consequently, Wild Life Department officials are not aware of the number of calves that were born during the past six years.
Speaking at a media briefing held yesterday in Battaramulla, the director general of the WLD, Dr. H.D.Ratnayake said it was mandatory for elephant owners to inform the department when a female elephant got pregnant and again inform the department within seven days of the birth of an elephant calf.
However, he said, neither elephant births nor pregnancies of captive female elephants had been reported/notified during past six years.
There were strict regulations in place, he said, and several detections had been made of persons keeping elephants illegally with fraudulent elephant registration licenses. The owners had been arrested.
The DG said the elephant calf registration process would be soon be re-started.
Meanwhile, the Wild life Conservation Department has decided to start a new e-booking service to enable the public to reserve wildlife bungalows and camping sites in national parks via the Internet.
Payment for the reservations could be made with credit cards and mobile phones, he said.
Mr. Ratnayake said the new method was introduced to ease things for visitors, especially tourists, as there were long waiting lists.
Respoding to a question, he denied the allegation that he had knowingly allowed wildlife crime networks, led by the likes of Maharagama Roshan (alias Ali Roshan), to kidnap elephants and register them using false documents regarding their birth.
"I never allowed anyone to kidnap elephants. I have signed documents which were approved by our officials after being double checked. I am ready to answer any questions raised by anyone regarding the matter," he said.
Speaking about the new programme, which introduced bio-fences to solve the long-standing human-elephant conflict, he said the number of bio-fences and electric fences would be increased; and that Civil Defence personnel were helping Wild Life Conservation Department personnel to supervise and maintain the fences.
(Piyumi Fonseka)