---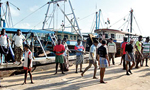 A day after Sri Lankan Deputy Minister Prabha Ganesan announced that President Mahinda Rajapaksa was ready to pardon the five Indian fishermen facing death penalty, presidential spokesperson Mohan Samaranayake on Wednesday told The Hindu : "Until now, no decision has been taken to that effect."
Asked why Mr. Ganesan made an announcement to the contrary, sources close to the President's office said Mr. Rajapaksa only spoke of possibly commuting the death sentence to life.
On Tuesday, an appeal was filed against the Colombo High Court's sentence awarding death to the Indian fishermen, and three Sri Lankans, for alleged drug trafficking. In a late evening development on Tuesday, Mr. Ganesan — who met the President to offer his support in the coming elections — told the media that the President was ready to pardon the fishermen if India did not go ahead with the court appeal.
Mr. Ganesan on Tuesday also told the Indian High Commission about the pardon offer, but there has apparently been no official word on it from the President's office.
In New Delhi, government sources told PTI: "The government has been insisting on the immediate and unconditional release of its fishermen who have been sentenced to death by the Sri Lankan court. And any avenue which enables that will be pursued." They said that the appeal would not be withdrawn.
It is learnt from official sources in New Delhi that India went ahead with the court appeal only after making the "best efforts" for a full presidential pardon. New Delhi has raised the issue with Colombo at the highest level, and Prime Minister Narendra Modi is expected to take up the matter with Mr. Rajapaksa when the leaders meet in Nepal this month on the sidelines of the SAARC summit.