---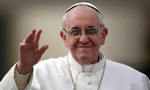 The Roman Catholic Church in Sri Lanka said yesterday that the visit of Pope Francis to Sri Lanka would take place as scheduled.
"We wish to affirm that as it stands the visit of the Holy Father to Sri Lanka will take place as scheduled," a statement issued by the secretary of the special secretariat set up to organise the pope's visit, Fr. Cyril Gamini said yesterday.
"We request the Catholic faithful of this country to pray that God will help all of us to make the Holy Father's visit to the country a success," he further said in his statement.
He said all the decisions regarding the visit of His Holiness Pope Francis to Sri Lanka are taken by the Catholic Bishops' Conference of Sri Lanka together with the Apostolic Nuncio in Sri Lanka.
Meanwhile, other reliable sources told Daily Mirror that the Roman Catholic Bishops were keen to avoid postponing the visit and had made a request to the government about this, especially in view of the presidential election. (Yohan Perera)