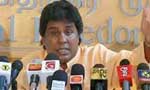 The Code of Criminal Procedure and Penal Code amendments proposed by the government to ban hate speeches would only intensify disharmony amongst different ethnic and religious groups, National Freedom Front (NFF) National Organiser MP Jayantha Samaraweera charged today.
The government on Saturday proposed the amendment of section 291c of the Penal Code which aims to punish those who use words, signs or visible representation with the intention of causing, instigating or attempting to instigate acts of violence or promotes religious, racial or communal disharmony or feelings of ill will or hostility between communities or different classes of persons.
Accordingly, anyone found guilty of causing religious, racial or communal disharmony would be liable to serve a two-year jail term.
MP Samaraweera warned that this interpretation could open the door for anyone wishing to cause communal or religious disharmony, to do so, and that even the sounds of Buddhist, Hindu devotional songs or Christmas carols could be fair game for these individuals, who could claim those songs had created feelings of ill will in them."Laws banning hate speeches and the promotion of communal disharmony already exist. We have already established reconcilliation in the country. There is no need to bring in new laws as they will create more barriers among religious and ethnic groups," he told a news conference held at the party headquarters in Battaramulla.
He said western and Indian imperialist forces were behind the move to amend the penal code in order to tame those who want to rise up against them. He said the move could not be left ignored and that it would put restrictions on patriotic movements and their activities."We request all religious leaders to express their opinion against the Penal Code amendments. We will take all measures possible to prevent these amendments from being enacted in Parliament," he said.
The government intend to discuss the amendments to the Penal Code and Code of Criminal Procedure on January 8 in Parliament and thereafter pass them into law, he said.
(Lahiru Pothmulla)