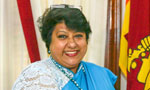 The newly elected Director General of the Commission to Investigate Complaints of Bribery or Corruption, Dilrukshi Wickramasinghe, today said that she had put forward an idea of having a separate court to hear such cases related to bribery and corruption because of the sheer number of complaints that the Commission had received.
She said they had held discussions with the Justice Minister in this regard among others related to the Commission when the minister visited the commission last morning. "We are also short of 48 cadres for the Investigation Department among other vacancies that exist. We were assured that we will be given new officers but deploying new officers and utilizing them is the main challenge we face," Ms. Wickramasinghe told a news conference today.
While stressing the need to safeguard the independent nature of the Commission, she vowed to have zero tolerance towards corruption. She said she would topple the 'corruption tree' in the island with the support of everyone, though it might take a long time to achieve the goal. "Our duty is to create a culture where there is a zero tolerance towards bribery and corruption. I repeat zero tolerance," she re-iterated.
Ms. Wickramasinghe said they were going through about 1,600 complaints at the moment and that a majority of cases had been referred for investigation. She assured that each and every complaint would be looked into and referred to the relevant department. "We will not set a case aside just because it was against a legislator. We will go through all the cases separately. However, we have received a considerable amount of complaints which are not under the purview of the Commission. I must also warn those who make false accusations against people that the commission recently lodged indictment charges against three persons for making false complaints," she said.
Meanwhile, she stressed the importance of putting the Commission in order before looking into the accusations of others.
"People can complaint on the number 076-7011954 or the e-mail address- dgbribery@gmail.com if they have any evidence against the Commission's officials,
" she said.
(Lahiru Pothmulla and Sanath Desmond)